A naturally guided life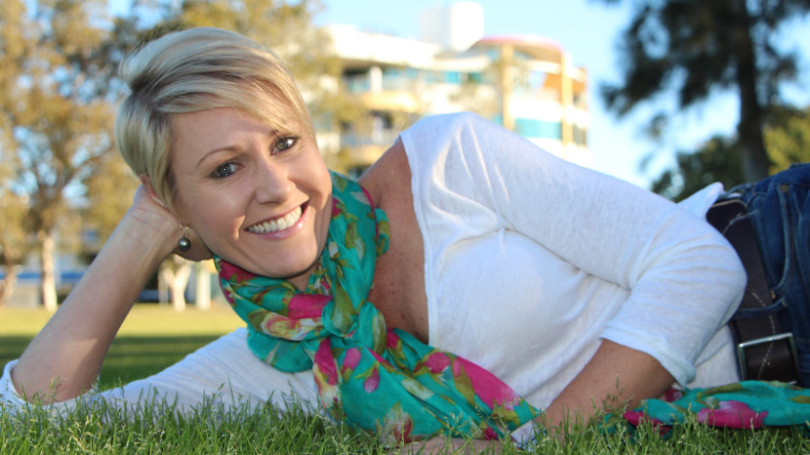 If you were to meet Jodi Chapman today, it would be close to impossible to believe that this beautiful young woman, who is the epitome of health, could have at one point in her life relied on medication to get through every day.
Jodi was born and raised in the western suburbs of Sydney along with her older brother and younger sister. For Jodi, the fun and innocence of her childhood changed quite suddenly when she reached seven years of age. Right throughout her adolescent years she suffered with unbearable migraines. The constant and intense pain ruled her life for the next decade.
Jodi awoke daily with agonising migraines. At the time, the only known solution were pain-killers. Getting through each day meant taking medication on a regular basis. As a straight A student up until the age of fourteen, the drugs began to affect her ability to concentrate at school. Through grades nine and ten, a tutor was employed to assist her with schooling, it was only through this additional assistance that she was able to maintain her high level results. Already on eight pain-killers a day along with other medications, by grade eleven Jodi's health had begun to overwhelm her.
Missing almost half of grade eleven due to illness, she was told she'd either have to repeat the year or drop out. Repeating was not an option, so she chose to drop out. The real world now lay before her and with little other choices for a young woman, Jodi decided to study a secretarial course.
Now eighteen years of age, funding her medications became her responsibility and required her to take on two jobs, one with a local medical specialist and the other working behind a bar at a local pub, in order to pay the $140 of weekly medication costs. It was during this time she met her then husband. With her personal life flourishing and her health diminishing, life delivered another blow when her mother passed away suddenly. This shocking loss left Jodi simply shattered.
Within a week of her mother's passing, Jodi developed psoriasis, an autoimmune skin disease, and within a month she had developed Ulcerative Colitis, a form of inflammatory bowel disease. The overwhelming stress and rapidly declining health became unmanageable and so, this resulted in her hospitalisation within a few short weeks.
Still fighting the headaches and living on pain-killers, doctors prescribed another massive dose of cortisone to add to her cocktail of medication in an attempt to fight the new diseases that had emerged in her body. The next three years of Jodi's life consisted of medication and continuous trips to the hospital; with no light at the end of the tunnel in terms of a prognosis that would see her health improve.
With her health a mystery to conventional medicine, the universe delivered. Jodi was recommended to see a holistic health practitioner; so with nothing to lose, Jodi embarked upon an alternative treatment approach.
After just one appointment with this man, almost all of Jodi's health issues began to cease. She was blown away, experiencing a feeling of wellness that had escaped her for almost two decades. Not knowing why but trusting her gut instincts, she decided to spontaneously stop taking her pills and medications. Before the appointment with the holistic practitioner, Jodi had been consuming quantities of twelve medications a day and the sudden absence of it in her system caused severe withdrawal symptoms. However, believing that her new found healer was getting results that conventional medicine had not, she continued on. Prior to this, she has been feeling as if early death was inevitable. Pills, drugs and unproductive days ruled her life and she simply hated it. The new found taste of a life of wellness now inspired her.
Persisting with her decision to discontinue her pharmaceutical medication, Jodi continued her appointments. She would leave bruised and swollen from his methods of pressured massage; however, her stomach issues were healed in a few weeks and her headaches were gone not long after. Jodi herself cannot explain exactly how, but what she did know for sure was that the bruises were nothing compared to the pain she had faced with the diseases that she had experienced her entire life.
Inspired and motivated by her holistic practitioner to study natural therapies, Jodi took a leap of faith and enrolled in university. Searching for a course was brief as the minute she laid eyes on Health Sciences, she knew the pathway she wished to take. The options for her major consisted of physical education (PE) teaching, nursing and counselling. Not being particularly fond of the choices, she opted for counselling, through a process of elimination. It was at the orientation day that she was informed a naturopathy major was being introduced. She could not believe that the universe once again was guiding her on a path towards helping others through natural therapies.
For the next twelve months, Jodi studied full-time and managed a full-time job as manager of the hotel. With time flying by, Jodi and her husband also made the decision to have a baby the following year. As she was in her second year of university when Amber was born, she wanted more time to be at home, being a new mum, so then dropped back to part-time work at the hotel. Whilst caring for her newborn, studying and working, Jodi began to work as a massage therapist from home. Life was becoming a balancing act and a sea change and relaxed lifestyle lured her new family to pack their bags and leave Sydney for the Sunshine Coast.
After 3 long years studying, and with just four subjects to go at university and a new baby, Jodi decided to take on a new business. Whilst the business did not work out the way she had planned, her uni life was also on the brink of disaster as it was put on hold, whilst she spent the next four years running a struggling business. Jodi then discovered she had only three months to complete the course before it closed, which meant she would have to start over. Not deterred by a challenge, Jodi took it on and completed her degree with utter grace. She then built another business in Buderim with her qualifications from the degree in naturopathy.
The new business simply boomed. She had hired rooms at Suncoast Fitness and within three months required a receptionist, within six months needed to renovate the premise and within 12 months needed to hire another nutritionist. It didn't stop there either! As the business kept growing, she was forced to move to another office and hire another receptionist.
The expression "things happen for a reason" cropped up all through Jodi's life. You could say that Jodi's journey has been guided towards a path which is unquestionably her truest passion and purpose; naturopathy. Her knowledge and understanding comes not simply from her study, but from her own experiences of finding a way out of life with disease and into one of wellness and positivity.
Currently Jodi enjoys running her business, Advanced Wellness & Behavioural Centre, caring for her family and training with close friends to compete in triathlons and Ironman. To add one final success to her life, Jodi is on the brink of releasing a book sometime in the near future. This book will undoubtedly help many people to get their health back on track, and in doing so they may find their purpose too, just as Jodi did.
We asked Jodi to share some tips to anyone facing health challenges or wanting to make changes to their lifestyle. Jodi says:
• Always consider yourself, care for yourself as much as you do your loved ones, you then have the energy to pour into loving them.
• Don't burn the candle at both ends; give yourself downtime, balance is the key to happiness.
• Be aware of your own mental and physical capacity, don't overdo it.
• Know what food/diet suits you and stick to it, you'll be surprised by how amazing life is when you feel your best in every way
• Keep work/play balance. Always have a goal to work towards, but not at the expense of happiness.